ATTORNEYS
Frank E. Brown, Jr. • James M. Saunders
FRANK E. BROWN, JR.
gbrown@saundersbrown.com • Direct dial: (703) 506-1022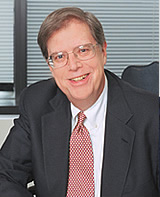 Frank E. (Gene) Brown, Jr. has practiced law in Northern Virginia for over 40 years, concentrating in the areas of commercial transactions and commercial litigation. In recognition of his contributions in the field of commercial law, Mr. Brown was elected to the Board of Governors of the Business Law Section of the Virginia State Bar, a position he held for six years. He served one year as Vice-Chair of the Section and subsequently completed a two year term as Chair. He is often asked to appear as an expert witness in cases involving commercial issues, particularly those involving the Uniform Commercial Code.
Mr. Brown has represented businesses in a variety of contexts, including mergers, acquisitions, buy-sell agreements, shareholder agreements, review and drafting of a variety of contracts, and serving as general counsel. Mr. Brown is acknowledged on a statewide basis as an expert in matters involving the Uniform Commercial Code. With this foundation already in place, Mr. Brown is able to advise and represent clients in an efficient, cost effective matter on matters involving, among others, sales, personal property leasing, letters of credit, investment paper, and secured transactions. Mr. Brown's litigation experience includes breach of contract actions, business torts, breaches of fiduciary duty, claims against directors and officers, and claims against fidelity bonds.
Mr. Brown has extensive experience in commercial leasing, having drafted and enforced leases on behalf of landlords with such nationally recognized tenants as Allegiance Health Care Systems, MedSurg Industries, Qwest Communications, and Simplex Time Recorders. His leasing practice is not confined to landlords, and Mr. Brown often reviews and negotiates commercial leases on behalf of tenants.
Mr. Brown's expertise in the field of banking and the relationship of customers to banks is recognized throughout Virginia. When the banking articles of the Uniform Commercial Code were rewritten in the early 1990's, the Virginia Bankers Association requested that Mr. Brown prepare a handbook for its members explaining the changes, and to supplement the written material with a seminar. As is the case with other sections of the UCC, with this foundation of knowledge in place, Mr. Brown can effectively and cost efficiently represent clients in all matters concerning their banking relationships and possible frauds perpetrated on them.
Mr. Brown is a graduate of Washington & Lee University (BA 1963, magna cum laude) and Washington & Lee School of Law (LLB 1965, summa cum laude). Bar admissions: Virginia, Supreme Court of the United States, Supreme Court of Virginia, U.S. Courts of Appeals for the Fourth and District of Columbia Circuits, U.S. District Courts for the Eastern and Western Districts of Virginia, U.S. Court of Military Appeals. Honors include: Phi Beta Kappa, Omicron Delta Kappa, Order of the Coif. Member of the Virginia State Bar and the American Bar Association. He is rated "AV Preeminent Lawyer" by Martindale-Hubbell and consistently achieves Martindale's highest peer rating (5 out of 5).
---
JAMES M. SAUNDERS
jsaunders@saundersbrown.com
•
Direct dial: (703) 506-1018
James M. Saunders heads the employment law practice at Saunders & Brown, PLC and maintains an active health care practice centering on not for profit providers of housing and health care services for senior citizens. His health care clients include Goodwin House, Inc., for whom he has served as general counsel and provided a broad array of legal services for many years, and the Northern Virginia Health Center Commission, for whom he has served as general counsel for more than ten years. Mr. Saunders is also a trial and appellate advocate in employment, business and commercial matters.
Mr. Saunders' employment law practice consists of representation of employers on matters including employment and separation agreements, executive employment and compensation issues, development and implementation of corporate employment policies and procedures, including manuals and employee handbooks, and employee benefits services. Mr. Saunders also conducts litigation in defense of charges of employment discrimination and wrongful termination, and litigation with regard to enforceability of noncompetition provisions in employment agreements.
Mr. Saunders' health care practice includes corporate organization matters, development and maintenance of residential care agreements and coordination of contracting with vendors and suppliers, licensure survey and regulatory issues, application for and maintenance of not for profit status, and advice and counsel to governing boards on issues as they arise. Among other things, this aspect of his practice requires an in depth knowledge of current state and federal regulations. Mr. Saunders' special projects have included serving as owner's counsel in the construction of new health care facilities, serving as issuer's counsel in tax exempt bond issues and related financing matters, and local real estate tax exemption services. An ongoing aspect of his practice is legal review of corporate compliance programs and advice and counsel with regard to HIPAA compliance.
Mr. Saunders has been engaged in the private practice of law in Northern Virginia for more than 20 years. He is a graduate of the University of Virginia (B.A., 1975), and the University of Virginia School of Law (J.D., 1978). Bar Admissions: Virginia, Georgia, United States Courts of Appeal for the Fourth, Fifth, and District of Columbia Circuits. Awards and honors include: Phi Beta Kappa, Omicron Delta Kappa. Memberships: American Bar Association, Virginia Bar Association. Mr. Saunders is rated ""V Preeminent Lawyer" by Martindale-Hubbell and maintains the highest peer review rating (5 out of 5).